Meet The Run-Lovin' Team
Founded by an Olympian & a Psychology Educator
In 2011, Olympian Adam Goucher and educator Tim Catalano teamed up to write the bestselling book Running The Edge.
The book's mix of personal stories, practical running advice, and motivation to push your own potential made it a bestseller — and pretty soon, Tim and Adam found themselves speaking to audiences all over the country to share the transformational power of running.
Less than three years later, they began producing fitness challenges to help even more people find success, motivation, and fulfillment.
These days, you can find Tim and Adam going head-to-head and racking up miles in the Amerithon challenge… or just hanging around the office in search of snacks.
Taya — Company Pawsident
Favorite Food: Anything dropped on the floor


Paw Size: 2


Claim to Fame: Ears so big, she can navigate by sonar


Taya is an avid runner who also enjoys a good game of Frisbee. She's fast, friendly, and a fierce defender of the office from UPS trucks and squirrels.
Taya's important work at Run The Edge includes 1) greeting everyone with a toothy smile followed by a sneeze, and 2) being a reason for the rest of us to go on walks. She's also participating in the Run The Year 2021 Challenge with her mom and dad.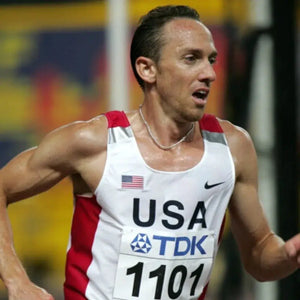 Adam Goucher — Co-Founder
Favorite Food: Chips and salsa


Shoe Size: 10


Claim to Fame: Can injure himself doing just about anything


Adam's long running career includes multiple national championships at the high school, collegiate, and professional levels. He made the U.S.A. Olympic team in the 5000 Meters in 2000, finishing 11th in the world that year. His lifetime bests include times of 3 minutes, 54 seconds in the mile and 13 minutes, 10 seconds in the 5K.


Adam's passion for running is tied to his lifelong pursuit of becoming a better husband, father, and friend. As the co-author of Running The Edge and co-founder of Run The Edge, he's grateful to be able to share what he's learned with the RTE community.
Tim Catalano — Co-Founder
Favorite Food: Cookies. Any kind of cookies. Seriously, do you have cookies?


Shoe Size: 8.5


Claim to Fame: His hair style


Tim ran for the storied University of Colorado in both track and cross country, helping push the team to a second-place national finish his senior year.


Post-graduation, he taught high school psychology in the United States, Honduras, and Dubai, and coached teenage runners.


Tim's background in psychology ensures that every Run The Edge  challenge includes multiple types of internal and external motivation. 
Tim's first Ultra-marathon was a 100-mile race in Ohio — and he got hooked. He now runs at least one Ultra every year.