Kara's Team: Run The Year 2023
Will You Join Me For 2023 Miles In 2023?
Kara Goucher, here! Ever since I was diagnosed with Runner's Dystonia, it has been difficult for me to get in as many miles as I used to. So for Run The Year 2023, I am building a team of 100 people to help me raise 20,230 miles in 2023 and funds for Dystonia research. If you register TODAY and use Promo Code "KarasTeam2023", you will get $5 off your registration, 20% of your registration will go to Dystonia research, AND you will be entered to join me on my team for 2023!
Jan 1st - Dec 31st 2023
Challenge start
What is Run The Year 2023?
Run, walk,  bike, or even crawl 2023 miles in 2023! Set your individual goal to 500, 1000, 1500, or 2023 miles. Take on the challenge by yourself, or join a team, earning prizes and milestone bibs along the way. You have the ability to manually enter your miles or sync your Garmin, Fitbit, Apple watch, or Strava to the tracker. See why this challenge has changed thousands of lives by making fitness fun!
Customize Your Challenge Package
Add Swag At 15% OFF
Build Your 2023 Registration
$25
Get started
Access to online tracker (individual and teams)
Access to private community
Build your team of up to 100
Customize your goals
RTY 2023 Mileage Guide
Choose your 2023 swag (only get what you want!)
Don't forget to use code: KarasTeam2023
More About Run The Year...
From new tracker features to customizable registrations, learn more about the challenge that keeps you moving all year long.
New Tracker Features
1

Cover the miles your way

To be more accessible to all, participants can now run, walk, bike, swim, or even hopscotch their way across 2023 miles. If you want to run/walk, nothing changes! BUT if you would like to bike, swim, or mooove the year, you can tell the tracker to keep a tally of those miles!

2

Teams of up to 100

We've upped the limit on team sizes…wayyyy up! Want to for a team with 10 people? Do it! 20? Good to go! 100?! Hey, it's your challenge! Now that you can have as many people as you want on your team, you can double, triple, or even 10x your miles, getting new badges for every time you hit another 2023 miles.

3

Private RTY community on new RTE platform

We're building you a new community platform to connect with other participants! This community will be free from ads, noise, and all other nonsense so you can be fully vested in your RTY journey, congratulate each other on achievements, find a team, and ask for recommendations.
New Registration Options
1

Fully customizable packages

Get everything that you want and nothing that you don't! Add on all your favorites, from medals to hoodies to t-shirts, at a 15% discount.

2

4 medals to choose from

You have the option to purchase medals for 500, 1000, 1500, or 2023 miles. Whether your goal for the year is one of these milestones, or you want to celebrate each along the way, we have something to help keep you on track!
Run The Year 2023 Medals (Choose one or get all four!)
These interactive medals open to reveal a mirror with the word "finisher!" You'll be able to see yourself, the Finisher, within the medal.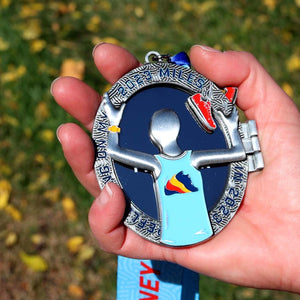 Check Out The Official Run The Year 2023 Medal!
What Our Participants Are Saying
Over the years, since 2015, I have become friends, in person and online, with some amazing people including the team at Run the Edge who have welcomed my wife and me to their offices multiple times…Thank you, Run The Edge, for creating these challenges!!!

Jason Tregler, 8-year participant
My 33 years of running have been accentuated by the Team at "Run The Edge"! The challenges that they have designed since 2015, have given me added motivation…I have had my share of getting into a rut. When this happens, I am spurred on by one of my many Run The Edge Challenges! 
Marilyn Simmons Bowe, 8-year participant
...I've run one mile minimum daily since then and I owe it all to RTY!!!!! I love my RTY family and I'm excited that I've inspired my niece to give it a go. Also, I'm obese and I appreciate the all encompassing inclusion of our group, I run slow as heck - but I run, nonetheless.
Tracy Valdez, 7-year participant
This, this post right here, and the others like this, the encouragement, motivation and constant positivity is why Run the Edge is my #1 running/walking/movement inspiring company that I follow, participate with and wrap myself up, proudly, in your swag. To the entire RTE team, thank you. Thank you!!

Deena Cota, 3-year participant
The community y'all have created is so much more than a run challenge. We are so thankful for y'all, and for the friendships created because of you. For posterity - Thank You for your quick replies and all your help! And if no-one's told you lately, You Rock!!!

Maria Crompton, Brian Shaw, Bailey Shaw, Bo Shaw, 8-year participants
Frequently Asked Questions
Still have a question for us about the challenge? No question is too big or too small, but please don't ask us about putting pineapple on a pizza. You'll just start an argument.
Contact us